Node js development company in Bangalore
Building smarter websites and applications has always been one of our core beliefs at Web Bazaar. As a full service web solution company we are always trying to up our game by ensuring that we stay ahead of the technology curve. As a 15 year old Bangalore based company we have worked with 100s of small and large enterprises. Node.js is one of the preferred frameworks that easily fits the needs of a small or a large business. The goal is always to complete the projects in time, with efficiency while creating cost benefits to our customers.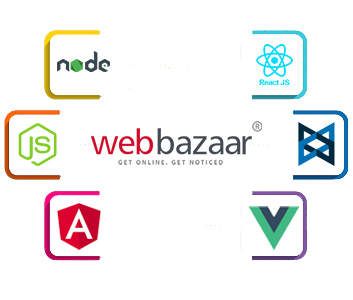 12+ Years of
Domain Experience

1200+ Projects
Delivered

40% lesser cost,
Save upto Rs 50,000

Highly Trained
Creative Team

No Compromise
Over Quality

Flexible
Engagement Models

Non-Disclosure
Agreement, Highly
confidential

Technology
Competence
Node Js Development Companies In Bangalore
Node.js development companies are at the forefront of the rapidly evolving software development landscape. Leveraging the power of JavaScript on the server-side, these companies specialize in creating scalable, efficient, and high-performance web applications. Node.js, with its event-driven architecture and non-blocking I/O model, has become a go-to technology for building real-time applications, microservices, APIs, and more. Node.js development companies employ skilled and experienced developers who possess in-depth knowledge of JavaScript, as well as other complementary web technologies like HTML, CSS, and front-end frameworks. These companies often follow agile development methodologies to ensure iterative and collaborative development processes.
Mobile Application Service Company In Bangalore
Node.js development services offer comprehensive solutions for businesses looking to leverage the power of Node.js in their software projects. These services cater to various aspects of the development lifecycle, from conceptualization to deployment and maintenance. With Node.js being a versatile and efficient runtime environment, development service providers harness its capabilities to deliver high-performance and scalable web applications.
Best Node Js Development Company In Bangalore
Webbazaar offers a comprehensive range of Node.js development services. Whether it's custom application development, API development, real-time application development, or performance optimization, they have the expertise to handle diverse project requirements. They understand the importance of tailoring solutions to meet specific business needs, and their consultative approach ensures that client objectives are met.stands out for several reasons. Firstly, they have a team of experienced and skilled Node.js developers who possess in-depth knowledge of JavaScript and its related frameworks. Their developers are proficient in creating scalable and efficient web applications using Node.js, ensuring optimal performance even under heavy user loads.
Our team has decades of experience in custom premier AngularJS application development
Top Node Js Development Services In Bangalore
A leading mobile application service company in Bangalore, known for its expertise and innovation, is at the forefront of revolutionizing the mobile app development landscape. With a dedicated team of skilled professionals, this company offers comprehensive mobile app services tailored to meet the unique needs of businesses in various industries. From ideation to design, development, and deployment, their services encompass the entire app lifecycle. The company's seasoned app developers leverage their technical prowess to create high-performance applications that are user-friendly, visually appealing, and feature-rich. Their meticulous attention to detail ensures that every app is optimized for different mobile platforms, including iOS and Android, providing seamless experiences across devices.
React Js
React-Js is open-source library that allows ReactJS developers to build hi-end solutions for web and Mobile app development. We leverage the potential of React Native framework to build custom React Applications and Professional consultation for every stage of React Native app SDLC.
NodeJS
Node-JS is an event-driven and server-side Js Framework runtime environment to make highly scalable and real-time apps. Building customised Node JS applications has been our speciality for long.
AngularJS
AngularJS is an open-source, JavaScript framework developed and maintained by Google.
Our team has decades of experience in custom premier AngularJS application development.
What Client Said About Our Services
I was so bothered about the mobile app development for my new business. But then I reached Webbazaar best mobile app development company in Bangalore. They understood accurately what I needed even more useful than I did and supported me to look most excellent. They did an excellent job. They just become a long-term associate because of their high-quality product and immediate responses and alterations to craft changes.
I had started my new supplement store business and looking out for building the best mobile app. One of my friends suggested speaking to Webbazaar. They listened to all my requirements and offered the right solution within no time. I am happy to be associated with Webbazaar as a long-term partner due to their prompt response and best strategies. I highly recommend this company to all types of business owners who want to build a mobile app for their ventures.
This company has trained professionals who are not just skilled in technology but also in terms of the best customer experience. All our doubts were cleared right in our first meeting and the service was also offered at a reasonable cost. The results of our app are very pleasing. Dedicated members take care of our app performance from the past 2 years of the launch. Want to thank you once again for all the best efforts Webbazaar team.
Webbazaar delivered my dream project with top most quality. I always thought these guys were working hard to achieve the project's milestones and eventually I saw the results in my project. I am very pleased that I found the best mobile app company in india. Great Work guys!